Message from Chandra – August 2022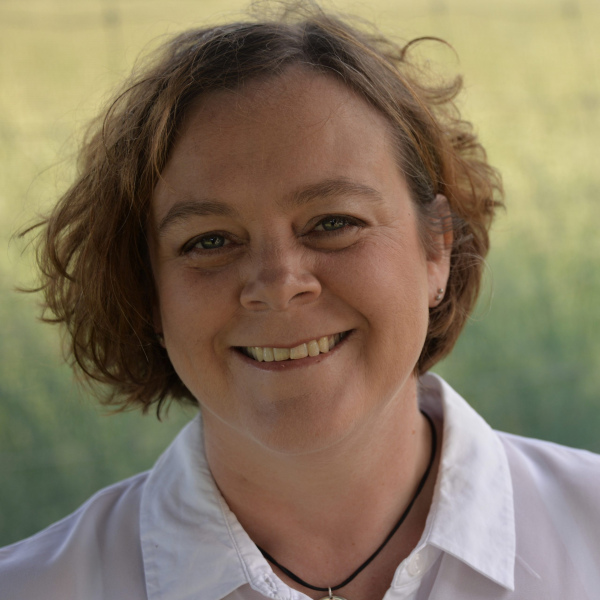 Kia ora
August is always my happy month, partly cos it's my birthday month, but also because it's three years since I started at Access Advisors, and it also means that spring is around the corner. If we can just get through the next few weeks of cold, things will warm up.
For Access Advisors, the team are managing to stay well and safe. We are also still growing, welcoming Bryn to the team to help with the increased demand for web development support. Bryn and Julius have worked together before so we know he will fit in well.
The last few months have been particularly exciting for accessibility in Aotearoa. Whaikaha is up and running, the Accessibility for New Zealanders Bill is before parliament and there are many other activities happening.
We are also thrilled with the positive response to the Helen Keller Webinar in late June. We received some amazing feedback so thanks for all involved. This month we have taken a different tack with a discussion about accessibility services and collaboration planned for 22 August which we would love you to attend.
So, wrap up warm, and have a read through the blog, sign up for the webinar and let's work together for a more #AccessibleAotearoa.
Happy reading
From Chandra and the team at Access Advisors
Bryn Heveldt – The New Guy
Bryn joins Access Advisors this week as an Accessibility Developer.
Bryn has a background in design and web development. Over 20 Years experience delivering digital products from museum work to education. Power companies to startups.
Bryn is a well-versed SilverStripe developer and UX designer rolled into one who has detail in his veins and accessible interfaces are his focus. He can help our clients solve accessibility code issues and give solid practical guidance on all things front-end.
Access Advisors' Access Panel – Panelist Profile
Introducing Paul Barclay
Access Advisors is honoured to work alongside a variety of wonderful people on our Access Panel.
Our panelists help with client facing research, usability testing, demo days and being the voice of lived experience.
In this newsletter we say specific thanks to Paul, a member of our panel, who has helped us out on numerous occasions.
Blinded in a car accident more than 30 years ago, Paul has lived experience of disability and is involved in many disability-related groups as well as Christchurch City Council, Canterbury DHB and Ara Institute of Canterbury.
Having spent more than 25 years in key positions with the Blind Foundation/Blind Low Vision NZ and Arthritis New Zealand, (more than 10 of those as an Employment Consultant), Paul is now doing free lance work including helping Access Advisors with research and demonstrations.
Based in Christchurch, Paul works closely with Access Advisors advocating for accessibility in many areas – workplace, building, facility, information, services and digital accessibility. He works part time as the CDHB as Senior Advisor Disability Communications Engagement liaising with the disability community to enhance the communication flow from the CDHB.
Paul is just one of our panelists from across the motu. If you would like to find out more about our Access Panel, please email Access Advisors or call Katherine on 027 265 4207.
Hāpai Access Card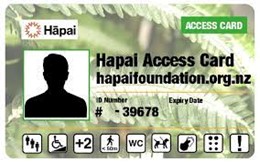 The Hāpai Access Card, which launched in Christchurch in 2021, has just been launched in the Selwyn District. The scheme helps identify businesses that are committed to being accessible to the disabled.
Businesses may also offer special discounts to card holders but it's more about the awareness and a discreet way of communicating the challenges that the card holder may have by the use of symbols on the card. Find out more on the Hāpai Access Card website.
Alternative Text – What Is It and How Can It Be Done Better
There is a saying made famous by Henrik Ibsen…that "a picture is worth a thousand words" and it is widely accepted as meaning that complex and perhaps multiple ideas can be conveyed by a single still image, which conveys its meaning and/or the essence more effectively than a mere voiced description.

Now, close your eyes and look at any picture – what meaning does it convey? Nothing! What meaning does the voice of a screen reader with no alternative text to report convey? Not much, except frustration if you use a screen reader. If you cannot see an image, alternative text matters immensely and this is where Ibsen should be turned on his head because a thousand words are more than enough to describe an image or a concept being portrayed by an image.

Alt Text is an abbreviation of the term alternative text – quite appropriate when it is a succinct written description of an image that cannot be seen or displayed.
Read the rest of the blog on our website.

Ross Harrison – Operations Manager – Access Advisors
News from the Accessibility World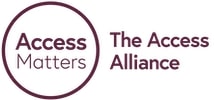 Accessibility for New Zealanders Bill – New Zealand Parliament
While it may not be all that had been hoped, there is an Accessibility Bill before parliament. This is hopefully the start of much bigger things to come.
Bills are proposals to make a new law or to change an existing one. Only Parliament can pass a bill. Each bill goes through several stages, giving MPs and the public the chance to have their say.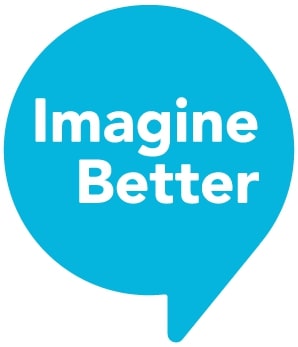 The New Zealand Disability Support Network (NZDSN) in partnership with the Enabling Good Lives National Leadership group, Ministry of Health, the Ministry of Social Development and Careerforce are creating a series of video resources based on the eight principles of Enabling Good Lives.
They are seeking disabled people, tāngata whaikaha, whānau whaikaha, agia / kainga, families /whānau and providers who would like to share how the principles of Enabling Good Lives have enabled them, or the people they serve, to live the life they want. More information on the project can be found on the Imagine Better Website.
Upcoming Accessibility Events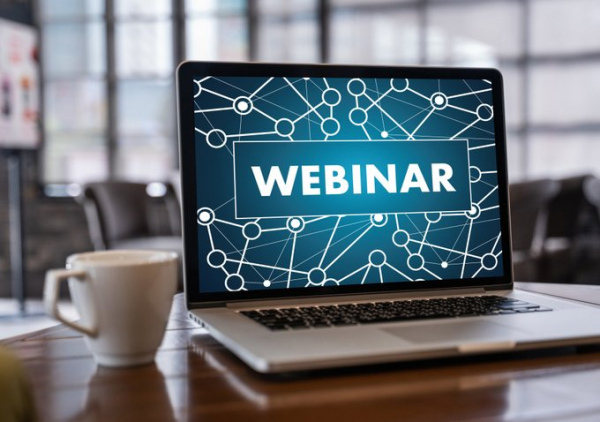 Free Access Aotearoa Webinar
Monday 22 August 2022 – 12-1.00pm
Productive Partnerships for the Disabled Community
This event is ticketed through Humanitix
2022 Disability Inclusive Pathways Conference
Dr Chandra Harrison will be at the conference and will be on the expert panel – Breaking Down The Barriers from 4pm – 5pm on the afternoon of the 11th August.
Kev's Top Tip – Alt Text

Once you have understood why you chose the image and what it says as part of the message you can then work out what to say.

Caveat: if the image contains text that is the subject of the image then the ALT must contain all of that text – no exceptions – as well as any other meaning. What is sometimes needed is to say that it is an Alt= "<slogan>, text in bright colours." or "the text, <slogan> in graffiti style". "<slogan>" alone can leave the reader wondering what they are missing.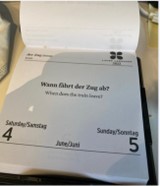 Remember meaning can be contextual, so some possible ALT texts for this image are:
Alt=""
Alt="A desk calendar, open to June 4th and 5th"
Alt="A desk calendar, in English and Germen open to June 4th and 5th"
Alt="A desk calendar by Living Language, in English and German open to June 4th and 5th. The reader has a German phrase each day – here it says and Wann faehrt der Zug ab? Which translates to When does the train leave? Word of the day is der Zug, pronounced 'tsoog', which means train."
Alt="Saturday is Samstag and Sunday is Sonntag in German"
All of the above, and many more are valid ALT text for the same image depending on what message it conveys in context and what is available in the surrounding text.
Kevin Prince – Senior Accessibility Consultant
Please visit our website to meet the team, for more news and blog posts and details of all our services. You can contact us by calling 0800 300 099 or email us at info@accessadvisors.nz. You can also contact us through the form on our website to ask a question or request our help.